Mirabell Mozartkugeln
Mirabell Mozartkugeln are the genuine Mozart Chocolates from Salzburg, and available in a lot of different forms and packages.
pics: Mozarttaler, Mozart Blume, Mozart Herz, Mozarttafel
Allow yourself to be seduced by Austria's most renowned chocolate delicacy and come and find out about some of the secrets of the genuine Salzburger Mozartkugel by Mirabell.
Order Mirabell Mozartkugeln Online
bout one hundred years after the divinely gifted composer Wolfgang Amadeus Mozart had lived and worked here, the master confectioner from Salzburg, Paul Fürst, began to form small balls of marzipan which he coated in a praline cream and speared on little wooden sticks. He then dipped these balls in warm, smooth chocolate until they were coated regularly with a chocolate layer all over. This was the birth of the Mozartkugel.
Originally the traditional Mirabell company also produced its Echte Salzburger Mozartkugel, as tradition demanded, in a manual process. However, in order to meet the increasing demand the manual manufacturing process was transformed into an industrial method. Nevertheless Echte Salzburger Mozartkugel are still made with the same love and attention to detail – fourteen working stages and a total manufacturing time of 2 ½ hours are necessary for each perfectly round delicacy.
100pcs box of genuine Mirabell Mozarkugeln.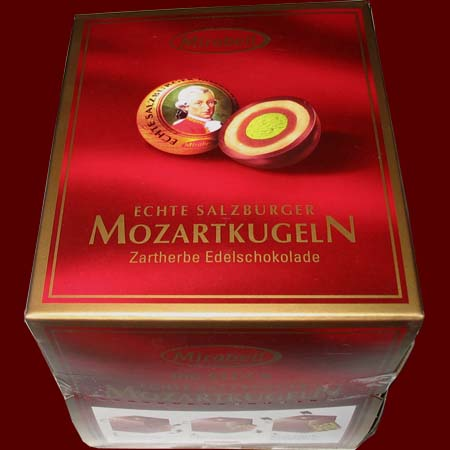 Order Online