Hofbauer Mozartkugeln
Hofbauer Mozartkugeln
Hofbauer offers Mozartkugeln in premium quality for the expensive tastes of Mozart Chocolates. You will experience the hand-decorated product uniqueness in a wonderful flavour enjoyment.
For over 120 years, Hofbauer has been inextricably linked with the finest confectionary and the city of Vienna. For many years, Vienna was also the source of inspiration for Mozart's unique music. Mozart Pralines are one of the most traditional products from Hofbauer – the Viennese confectionery specialist: carefully selected ingredients and craftmanship have together created the very special pleasure of Hofbauer's delicious Mozart Pralines.
Order Hofbauer Mozartkugeln Online
Hofbauer has a high-level traditional confectionery experience, and the purpose of its excellent recipes is to achieve a top quality.
The story of the traditional sweet manufacturing Hofbauer in Vienna started in 1882, in this year Carl Hofbauer opened a cake shop in Vienna.
The Hofbauer trademark is still strongly connected to Vienna, which is reflected in each element of the product: recipe, tastes, and packaging.
Only the most excellent and noblest, sorted ingredients are used for the manufacture of the exclusive Hofbaur products. The company acquires the basic materials according to very strict rules, which starts with the purchase of cocoa bean, and ends with the top-quality packaging material developed on the basis of individual demands.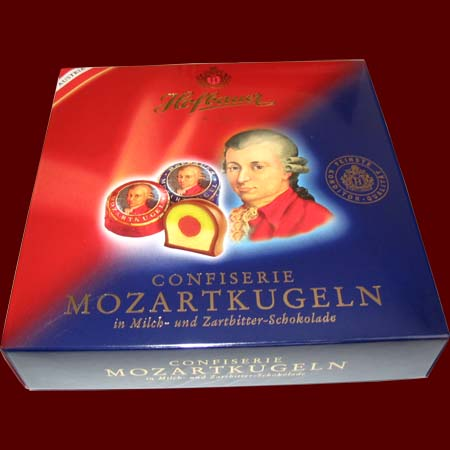 Order Online